Speed limits in Google Maps
It's an elegant and easy-to-use app for Android to display speed limits in Google Maps! And it also works with all other apps.
If you use Google Maps for navigation on your Android device regularly, this might be the right app for you. Have you been searching for a feature to show speed limits in Google Maps on your Android device, but you were unable to find it? Sad but true: a feature to display your speed in Google Maps is not present inside Google Maps. But we are here to help you out!
We created a simple mobile app to show the actual speed limit for the current road you are diving on. Maps Speed Limits can be activated for every app you want. It displays a small traffic sign with the speed limit on the side of your phone's screen. You can drag & drop it anywhere. It automatically shows up when Google Maps starts.
How does it work?
Visit Google Play to download Maps Speed Limits to your Android device. After downloading and installing, launch the app. The home screen appears, you can change your settings here and choose in which apps you want Maps Speed Limits to show up. Maps Speed Limits will show and hide automatically. For more detailed instructions, visit How to use.
Maps Speed Limits screenshots
Click an image below for a larger view.
Get it now on Google Play!
View and download this app at Google Play.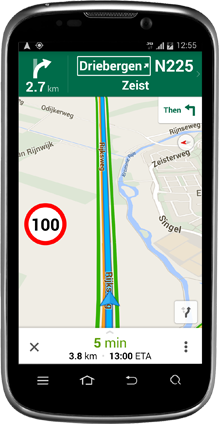 Free 7-days trial
No advertisements
Works with any app
Auto show and hide